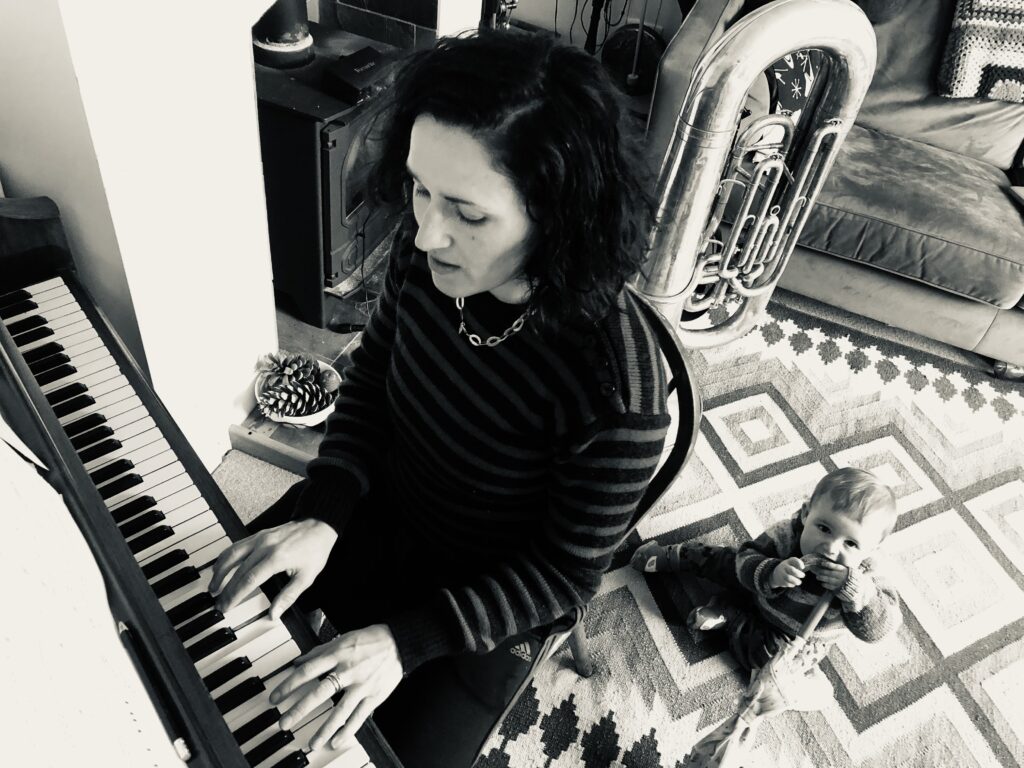 Eleanor Hooper
A brief survey of my recent work and activities in Support of my DYCP Application
Celestial Sound Cloud (2016 to date)



The Celestial Sound Cloud is an interactive light and sound installation that I conceived and composed the music for. I developed the sound element further in a Boom residency with Oxford Contemporary Music. This is my first departure from making performance based work and the first led by the music and is the main catalyst for the DYCP application- to gain the skills to continue exploring/making work in this vain.
TOAST (2018 to date)

TOAST is Pif-Paf's ambitious beautiful, growing, communal celebration of food, song, story, dance and fire. It happens on and around our ever moving mobile kitchen cart with 3 cooking, story telling musicians. It is a mixture of songs, stories and recipes learnt from musicians and cooks from around the world and responds to you – the audience – and the stories you are going to tell us.
Expect flying pancakes, singing, dancing, a bit of eating and drinking, laughing and lots of new friends
-I was one of the RnD performers and the director for this show. We researched the material and learned songs in many languages from our diverse local communities. The music is a key element of this show, singing songs in many styles and creating soundscapes live through looping and audience interaction. The expertise I'd gain through the DYCP will help me in devising, direction and collaborating with musicians in making performance like this, were the music is an intrinsic element.
BabelVane and The Weather (2020/21)

These are two digital projects we've been developing at Pif-Paf 2020/21 through Lockdown – one is an Arduino based Internet Of Things device and the other an in house developed AR and Audio trail project. After the completion of the DYCP I'll be better able to compose and produce the soundscape & music for these projects when we take them to the next stage of their development.
Recent Training
In 2015/17 I undertook professional development and completed an M.A in devised physical theatre at Arthaus Berlin formally known as LISPA. Previously at PP and in other work I had always engaged an outside director. Doing the M.A gave me the know-how and confidence to be more ambitious and direct and devise my own work to high acclaim. This has made our work at PP more sustainable also giving me the opportunity to direct and facilitate other artists work in my creative community in Sheffield. From past experience I am certain that what I gain from the DYCP project will benefit both these bodies of work.
As a result of my MA I realised I wanted to make work that has a strong element of music weaving its way through telling the story. I achieved this in Snow White as a co-production between Tell Tale Hearts and Pif-Paf in collaboration with the Lawrence Batley Theatre, Civic Barnsley and the National Union of Mineworkers. I co-wrote this show and collaborated with Jack Stoddart on the songwriting.
Snow White (2015/16)



Snow White was the first show I made after my M.A. co-directing, playing Mystique the evil step mum and writing songs for the show (MD was Jack Stoddart of Rashcklicious).  Pete Gunson and myself co-designed the set acclaimed set.
SEED (2016 to date)
I  went on to devise and direct SEED with my first child tucked under my arm at 9 months old. This show also has live Tuba playing and singing at its heart and has toured strongly for 4 years.
Greentop Circus "Troupe" (2019 to date)

In 2019/20/21 I have made professional shows with my community, teaching and directing Greentop Youth Troupe in making an outdoor circus show touring places in South Yorkshire. Part of the work this year is a collaboration with Sheffield Music Hub leading performance skills masterclasses for musicians. Plus incorporating live music from Youth Troupe and young musicians that are part of Sheffield HubFest.
Circus Direction (on going)



With other creatives in Sheffield I have directed, been a mentor and outside eye for Claire Crook making Mirrors and Ribbons about female body image told through the medium of circus and Who Do They Think They Are? a show that explores identity, ethnicity, gender and community in circus.