The Flycycle Delivery Service
As you will have heard across the radiowaves Santa and The Reindeer were hit with a serious dose of the Flu and it's due to hit again in 2015!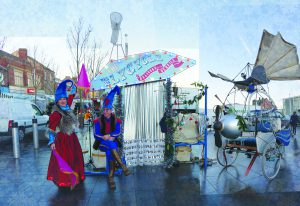 So – The Reindeer have wrapped up their favourite Christmas treats, we've got a huge map, a dressing up box, the famous Flycycle and are now searching the land for volunteers with the wildest imaginations to save Christmas and become part of …. The Flycycle Delivery Service.
Each day the Departure Lounge will set up in a new town and gather the brightest and best of young and old to join us 2 by 2 and deliver Christmas presents personally around the globe, or as far as their imagination can take them. All this on our beautiful pedal powered flight of fancy simulator with all mod cons and in the utmost luxury, including seatbelts.
The Flycycle Delivery Service is only available at Christmas and possibly at Easter if the Easter bunny get a sniffle, but is not getting involved in that ToothFairy business.
"If you want a most wonderful and entertaining performance I could not recommend Pif Paf highly enough… extremely professional and their delivery was all that I wished for. The children and adults who used their Flycycle Delivery Service enjoyed it so much it was a disappointment to everyone when they had to finish for the day!"
— Karen Walker – Blyth Town Team