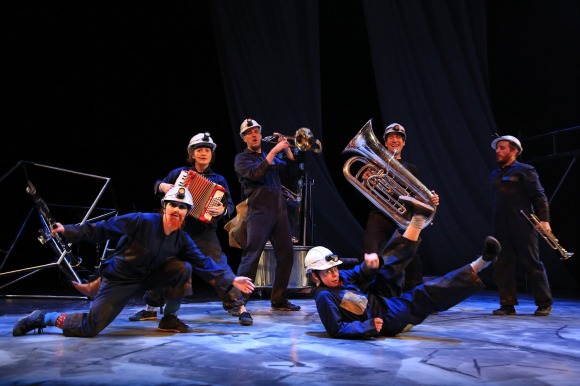 Casting Notice: Snow White
Audition for Snow White with Pif-Paf and Tell Tale Hearts on Tuesday 3rd May 2016
Background
Tell Tale Hearts Children's Theatre Company and Pif-Paf are remounting a critically acclaimed production of Snow White at Barnsley Civic in December 2016. This is a new take on the traditional story and originally performed at the Lawrence Batley Theatre Dec 2015. more info at http://www.telltalehearts.co.uk/shows/snow-white/
The setting is a post-industrial Yorkshire where men from the pit have had to find new ways to make a living, in the form of a mini brass band The CoalFace Crocodiles. The show is a modern take on the pursuit of fame at any price by the Stepmother, Mystique, versus the gentle talent of Snow White and her friendship from our unexpected heroes.
'Music is a delightful mix of northern grit and Creole swing, and you can't help but admire the skill set of the six-strong cast. Actor-musicians we are used to, actor-musician-acrobats are something else' – The Guardian
'A supreme success that is set apart from the panto-tastic season, but still takes a sideways nod to the festivities, with a good Christmas message at its very heart.' – Yorkshire Post
Requirements
1 x male performer – coal miner Lamplight (the brains and mouth of the Coalface Crocodiles) plus multiple parts, with strong brass music skills Playing age 30 – 45 years.
1 x female performer – Mystique Stardust (the charismatic villain) plus coal miner role. Needs confident wind instrument skills, strong singing (one jazz number), basic aerial performance strength and confidence at heights (Cordelisse) and choreographed movement skills. Playing age 30-40.
We are looking for actors with strong physical, clowning and musical skills. A knowledge or interest in the following approaches to clown – Le Coq, Philippe Gaulier, John Wright or similar. Devising, street theatre experience and improvisation skills an advantage. The production will take place in the Assembly Rooms Barnsley Civic and there will also be 5 outdoor performances as The Coalface Crocodiles street band.
The dates are from 16th Nov – 24th December 2016 (inclusive) and pay is at ITC rates with relocation costs if applicable.
Directed by Natasha Holmes
Script by Natasha Holmes & Eleanor Hooper supported by Mike Kenny
Designed by Pif-Paf
Musical Director & Composer: Jack Stoddart
Audition Venue: Victoria Works – 1 Rowland St, Sheffield S3 8DE – Sheffield
Audition Dates: Tuesday 3rd May 2016
How to apply
Please send the following:
CV
Photo
Covering letter/email outlining the candidate's suitability and previous experience of street and/or children's theatre in particular.
By email: mail@pif-paf.co.uk
By post:
Pif-Paf ,
Unit 4 Petre Drive
Sheffield
S4 7PZ
Deadline for applications is 5pm Friday 22nd April.
Many Thanks and Best Wishes,
Pete Gunson
Pif-Paf & Tell Tale Hearts.