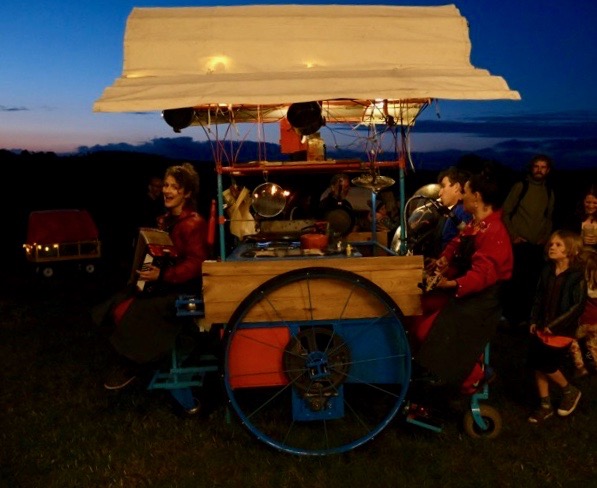 Lead Musician Call out for Pif-Paf's TOAST
Pif-Paf are auditioning for two roles for creation & touring of our new outdoor show TOAST – see also Performer/Musician
TOAST will be a big hearted and highly interactive show celebrating food and the ancient art of hosting a really interesting party where strangers become friends. It will be set around our all weather off-road electric kitchen cart with full PA and after dusk fire sculpture. We'll share songs, recipes, dances and stories from around the world and our audiences lives, and this will all be communally "Toasted" with fresh made food and drink. Songs will be a mixture of tunes learned in rehearsals from global musicians in Sheffield (so far Yemeni, Slovak, French & Kurd), reimagined in our instrumentation alongside traditional UK songs – focussed on food.
The role includes audience interaction and being part of the ensemble but the key strength and responsibility will be developing the musical palette with the Musical Director and taking this role on and driving the music through rehearsals & touring.
Pif-Paf is a highly respected cross genre theatre company working exclusively in Outdoors Arts with work spanning from playful flying Rickshaws to cutting edge interactive digital installations, via a Giant Slug show – check out pif-paf.co.uk & @pifpaftheatre for more. We celebrate Diversity.
Person Spec
Essential :
– strong player of at least one chord and melody instrument suitable for the street.
– ability to arrange music for 3 instruments/voices
– confidence and experience to lead the band, keeping it tight, trying new ideas and guiding the other members
– strong confident speaking and singing voice, able to tackle singing in other languages
– skill in use of tech to create multi instrumental loops/samples to build rhythms and tunes live to support and develop dramatic action
– can work in a range of musical styles
– ability and sensitivity to devise performance & music in an ensemble
– be able to improvise and take risks in live performance
– enjoying mucking in to all aspects of touring a complex show, keen to learn technical jobs that will need carrying out (the 3 strong performance team covers all the set up and de-rig)
Preferred:
– experience in a theatre devising creation process
– experience in touring outdoors work
– multiple languages
– enjoy cooking and want to perfect new recipes
– Surprise skills
– knowledge of European folk dance music eg Breton
APPLICATION: Please email a cover letter and CV and any links to mail@pif-paf.co.uk by Monday 4th November 5pm
any queries please don't hesitate to email or ring Pete on 07931 339 161
Audition will be 23rd November in Sheffield 10-4pm. If you are interested but cannot make this date we are open to making other arrangements – so do please apply.
Rehearsals:
based in Sheffield and Newbury,:
Stage 1 : Feb 03 to Mar 05 2020 – 12 mostly week days tbc
Stage 2 : May 4 to 7th & 11th to 14th
4 further days over summer
The show has a strong tour developing for 2020 and beyond.
Touring:
We currently need near full weekend availability mid May to October as the tour fixes, we realistically expect 20 days touring across England.
Fee : Rehearsals : £140/day , Performance day @£190/day
accomodation & travel for rehearsals and performances will be covered
Other Info:
We do not tour with technicians, the 3 strong performing team will carry out all duties. The third member of the cast will be Pete Gunson, Pif-Paf co-director